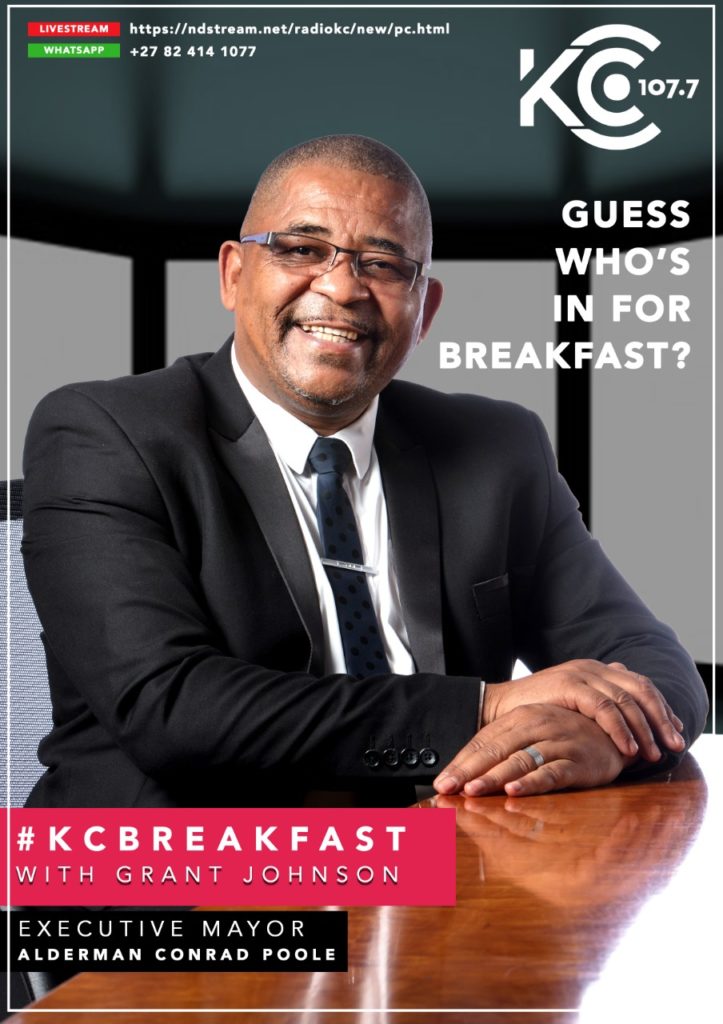 The #KC BREAKFAST with Grant Johnson has a brand new feature; KC GUESS WHO'S IN FOR BREAKFAST. Every Thursday the breakfast show invites someone influential from the community to breakfast.
To kick off this feature, on Thursday, 25th March, the very first official "KC guess who is in for breakfast" was Executive Mayor Alderman Conrad Poole.
The mayoral mix had an interesting song selection with Oliver Twist, The Rockets, Eddie Grant, Bob Marley, Jimmy Bo Horne and Culture shock.
The mayor said that "you can clearly see the Ubuntu in those songs" thus those songs are interesting to him.
The aim of this show is to learn more about the person and throughout the show it was clear that the Mayor is a religious person.  
It is due to his faith that he has been able to execute his duty as a family man and as mayor during these trying times of Covid-19.
The mayor explained that at times it's overwhelming but God provided him with the mercy and placed him in a position to have a positive influence in people's lives.  
To handle the pressures that often comes with daily life the mayor practices balance and explained that the "focus is in the framework of the law without breaking anything".
Before his role as mayor Conrad Poole worked for Landenberg Foods as a Lab assistant and Berg River Textiles. He mentioned that his mother had a dream that he would become a lawyer, "but God had a different plan".  As for the plans for the future m the mayor pointed out that "the future is in the hands of God."