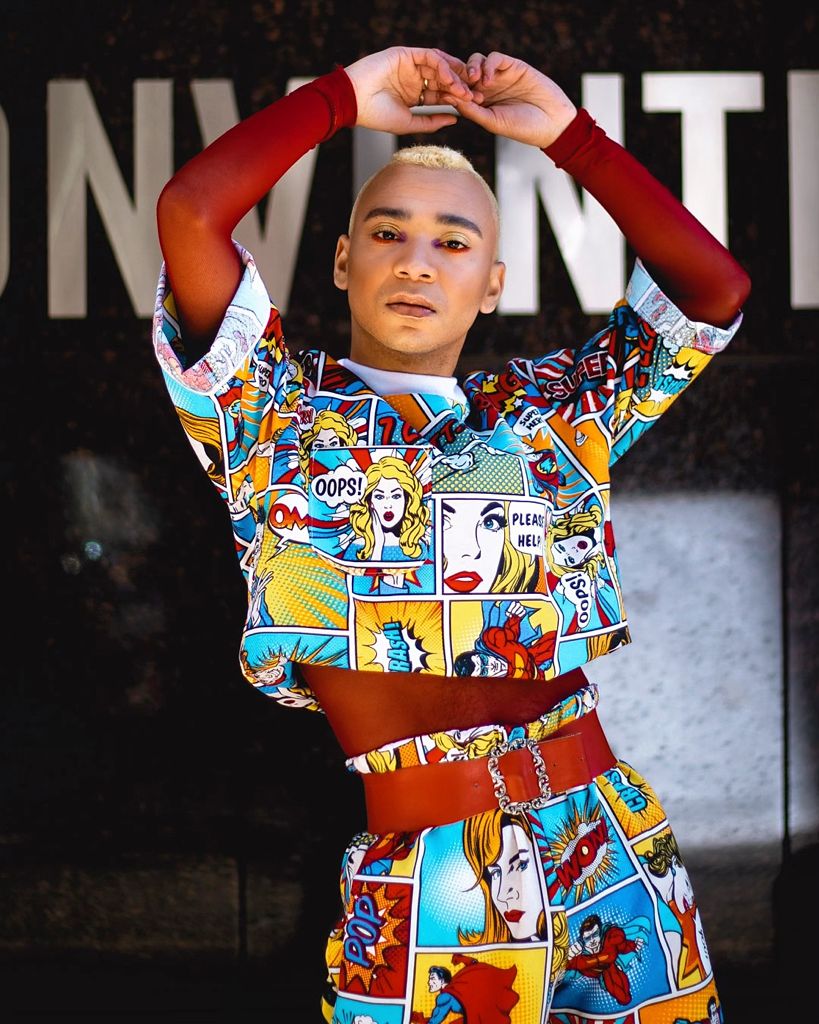 The #KCDRIVE presenter, vocalist and actor SeanJ was interviewed by #KCVIBES and gave an exclusive look behind the scenes of the new single "Let Me Be Me". The song was written in 2019 but only recently released, SeanJ says "I felt people needed some positivity during these challenging times".
From performing across local and international stages such as UAE and Mauritius. SeanJ was born and raised in Paarl, Western Cape. Was raised in a small family. Matriculated from Bridge House School and is currently a Presenter on the KC Drive show.
But let's get to know SeanJ and get clued up on his new release…
‌Q1. Candice: What motivated you to go into entertainment?
A1. SeanJ: For as long as I can remember, I've always been interested in pursuing a career in the entertainment industry. As a young boy, I took part in many talent competitions and theatre productions which propelled me into a career as an aspiring entertainment mogul. It started with singing and over the years other parts of my creative abilities were unlocked. I express myself best through my work as a creative.
Q2. Candice: Congrats on Your latest single "Let Me Be Me"…Who is the inspiration behind the song?
A2. SeanJ: Thank you!! No particular person but as a youngster, I was always drawn to the power of the arts and how impactful it can be for change. I knew that I wanted to be a part of that revolution.
Q3. Candice: How were you involved in the creative process?
A3. SeanJ: The song was written and produced by myself and my great friend Xavier Saer (singer/songwriter, model, dj and celebrity photographer). He approached me with the original idea and the song developed from there. The song was recorded in 2019, but I only released it recently because I felt people needed some positivity during these challenging times we are currently experiencing globally. Recording the music video was quite challenging in terms of logistics and following Covid protocols because it was filmed during lockdown in Johannesburg, but we are very happy with the final product. I worked with an amazing team who made the entire process enjoyable.
Q4. Candice: Love the wardrobe… who is the designer?
A4. SeanJ: Me too! My stylist, Keenan Du Plessis (Instagram: @i_go_by_keenan) did an incredible job in executing the brief that I gave him. I wanted the wardrobe to reflect my quirkiness and playful side but I also wanted to feel strong, powerful and liberated. He also knows me very well which made his job much easier.
Q5. Candice: Let's talk about the video and the concept of the ribbons. How was the response this far?
A5. SeanJ: "Let Me Be Me" is a feel-good anthem encouraging people to live their truth and stand strong in their individuality. The release of "Let Me Be Me" was entirely a passion project between friends and could not have happened at a better time. With all that is currently happening in the world, I wanted to release something that would make people feel happy and forget about all the stress, even if it is just for 3 minutes 40 seconds. As a proud gay artist, I also wanted to celebrate the LGBTQI+ community – all those brave men, women, boys and girls who on a daily basis stare in the face of adversity and take ownership of their power by living their truth and embracing their identity. The ribbons represent the colours of the rainbow flag. The response thus far has been beautiful. It's been very heart warming receiving messages from people telling me how the song has helped them embrace their sexuality, individuality, quirks… I recently received a message from someone saying how the song helped him 'come out' to his family.
Q6. Candice: How do you feel the Internet has impacted the music business?
A6: SeanJ: It definitely has its pros and cons. Listeners will stream music or make use of pirate sites which means artists don't really make money from their recordings. On the plus side, it's helped artists reach a bigger audience and during COVID we have been able to host concerts online and still make an income.
Q7. Candice: How would you describe the music that you typically create?
A7. SeanJ: I enjoy writing music with an inspirational message and clear narrative. I'm inspired by the stories of people I interact with and also draw from my own life experience. As an artist, I strive to remain authentic and don't like to box myself because I listen to and draw inspiration from multiple genres of music and that always reflects in my writing. I have my honours degree in Jazz performance from the University of the Witwatersrand but I'm a firm believer in versatility and applying oneself.
Q8. Candice: Who would you most like to collaborate with?
A8. SeanJ: David Foster – he is one of my favorite songwriters and producers. It would be a huuuuge dream come true working with him.
Q9. Candice: If you could go open a show for any artist who would it be?
A9: SeanJ: John Legend!
Q10. Candice: What would you be doing right now, if not entertainment?
A10. SeanJ: It would probably still be in the creative industry – I can't see myself anywhere else. I'd probably do something in interior designing or photography.
SeanJ is such a caring person and during the interview you immediately realize that SeanJ is a visionary and really wants to use his influence to make a positive change. SeanJ explains that there are challenges in the industry and advices creatives "to better educated themselves on the business side of the industry and research how to be protected by the law. It's really upsetting that we still have artists dying poor because they weren't paid their royalties".
In conclusion SeanJ say "I will definitely be releasing more music (I've written some new music during lockdown), focus on my acting and continue working on my craft. I've discovered a lot about myself over the last year both personally and as a creative".