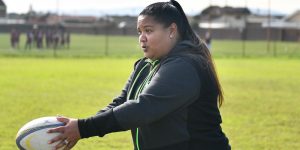 Junior Springbok Women head coach Laurian Johannes-Haupt recently completed a SA Rugby Under-19 Girls camp in Paarl.
A total of 32 players were invited to the camp following last month's SA Rugby Under-18 Girls Week in Welkom, as well as a handful of players who were involved in 2019, the last time the team were together.
"The main aim of the camp was to introduce these players to the fundamentals of the Junior Springbok Women structures and to show them and share with them where we are and where we want to be as a squad," said Johannes-Haupt.
"We last had such a camp in 2019 and sadly we lost a lot of ground because of the pandemic. We had to start at the beginning, making sure their basics are still intact, including areas such as scrumming, lineouts and phase play."
Johannes-Haupt said she and the rest of the staff were surprised by the talent on display: "There were really talented individuals that came from this, and we would like to get them involved in the Junior Boks Women set-up this year already. They are certainly in line to be involved when we play next month."
The Junior Springbok Women will face Zimbabwe in Potchefstroom on 19 August, as a curtain-raiser to the Springbok Women's second Test in the Women's Winter Series against Spain.
The Junior Springbok Women will get together on 14 August to prepare for the clash against Zimbabwe and Johannes-Haupt said they will cast the selection net a bit wider for that match.
"We will look at the forthcoming Youth Training Centres tournament early next month and will select the bulk of out squad from those teams," she said.
"We will be taking 10 players from the camp we had now into the Junior Boks Women squad and 15 players from the YTC tournament will complete our squad to face Zimbabwe.
"Three of our players that were in Paarl already played in the senior Women's Premier Division this year, where they gained valuable experience, so there will be much anticipation for us to play international rugby again."
The YTC tournament will consist of nine teams – eight from the provincial Youth Training Centres and a team selected from players in provinces where there are no YTC structures in place yet. SA Rugby recently appointed former Springbok Women player Cebisa Kula as their Women's Rugby Pathway Manager, with her main early responsibility to plan and run the event.
Junior Springbok Women training camp attendees:
Byrhandre Dolf , Zenazi Ntuthu, Johnercia Booysen, Chanel Wales, Arnell Primo (all Eastern Province), Clarize Smith , Donishea Cloete, Janda Harmse (all Griquas), Yoliswa Mthombeni, Neliswa Mkhungo, Sindiswa Ngwenya, Ayanda Kwesewa (all Sharks), Jamie Lee Brown (Boland), Abongile Gxalaba, Liyabona Boyce, Jongo Booi (all Border), Camelitha Malone, Leigh Fortuin, Raeegah Hendricks, Sibulele Ndadaninzi, Asemahle Mpondo, Anuchka Ekron, Teshiian Plaatijies, Somila Kebeni, Sinathi Mzamo, Asiphe Mayabe (all Western Province), Shannon Windvogel, Shannon Pieterse, Sharohn Morris (all SWD), Boitumelo Motshoame, Thobile Msizazwe (both Golden Lions). Sharks player Sinothile Bhengu could not attend due to injury.
Team management: Laurian Johannes-Haupt (Western Province, head coach), Riaan Lameley (Pumas, assistant coach), Zolisa Noxeke (Border, assistant coach), Natasha Hofmeester (Western Province, team manager).
---