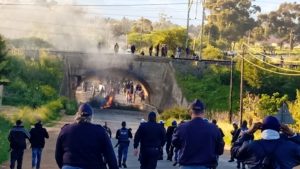 Community unrest in Brickfields over electricity
Early morning commuters from Simondium as well as the nearby luxury estates such as Val de Vie, were badly affected on Tuesday morning when residents of the Brickfields informal settlement in Paarl started rioting on Tuesday morning.
Since 06:00 car tires have been set on fire on the R101 and R45, stones have been thrown at cars as well as unconfirmed incidents of petrol bombs being thrown. The road here, which is a very busy junction, has been closed for motorists to the Paarl and N1 for some time.

Several police units are on the scene from early on. According to a police spokesperson, residents are upset about an electricity dispute with the Drakenstein municipality.
---