#KC25 "ONSE MENSE" TOUR VISITS, SOMONDIUM, KLAPMUTS AND LE BONHEUR.
Written by KC_Admin on 1 October 2021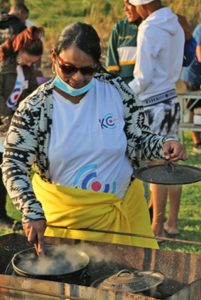 our BOL Pharma Grows In A Favorable Climate That Made Israel Leader Of 0B Medical Cannabis Market buying t3 online anabolic steroids safe dosage, anabolic steroids sale – торговый советник #KC25 activation team set off to Somondium, Klapmuts and Le Bonheur to continue with our #KC25 "Onse mense"  tour – collecting various stories and messages from our 70 000 listeners.  "The day was amazing!  Being amongst nature and it's creations brought so much peace and appreciation. I especially enjoyed the potjie-kos challenge with our listeners."  Louise Pietersen
A Massive thank you and much appreciation to everyone for making this adventure possible. Be on the lookout for final leg of the #KC25 #OnseMense tour on 02 October 2021 at Languedoc, Banhoek, and Pniel from 08:30 to 15:30.
---