KC 107.7 Tributes a Sport Legend – Prof George Fredericks
Written by KC_Admin on 7 October 2021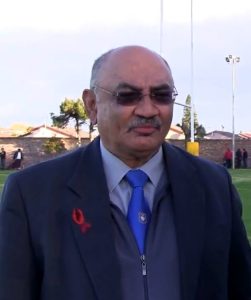 My Dear Fellow Paarl Residents
May I, as a member of the larger Paarl community, pay last respects and tribute to an eminent individual from our valley, the late Prof George Fredericks, who passed on a few days ago.
Prof Fredericks earned the respect and high regard of people way beyond the borders of Paarl because of his spontaneous, humble and unaffected willingness to extend respect to others. This was due not only because of his considerable formal academic qualifications, but also his humane and gentle touch that reached out so generously to those around him. Prof Fredericks was a popular, approachable Dean of the Faculty of Arts at the University of the Western Cape after an arduous journey of raising his academic qualifications and working his way up the ranks. Yet the ease and humility with which he engaged with people of all stations made his life the embodiment of the view that we do not need sophisticated theories and elevated scientific research data to recognize our fellow human beings as human beings in need of respect and empathy. Personally I cherish the anecdote of his promotional visit in the late nineties to a predominantly white high school in the Southern Cape to recruit students for the UWC. The school principal confessed that he had never before in his life spoken to a Coloured doctor and left alone a professor, so he was at a loss as to how to address such a person. Prof Fredericks gave him the quiet assurance that he was quite at ease with "George" and eventually left the school premises on cordial and respectful mutual first name terms with the school principal. Instead of a confrontation, there was an encounter.
Although his field of academic expertise, Library and Information Science, was so intimately connected with books and texts in general, he never locked himself up in the Ivory Towers of academia. Instead his committed community involvement and leadership displayed a firm focus on the centrality of real human beings of all walks of life and their needs. In this regard we pay tribute to his involvement in a range of community institutions from serving on his church's council, coaching rugby to serving on a variety of boards including local school governing boards. 
It is evident that Professor Fredericks's community-driven life in turn influenced his work as a teacher, lecturer and postgraduate research supervisor, because in these capacities he saw himself, not as a pontificating pedant, but rather as a facilitator in the sense of empowering and enabling those studying under his guidance to bring to fruition their talents and to flourish.
 Perhaps it is worth keeping in mind that Prof Fredericks lived in Paarl for most of his adult life. His wife, Cynthia, is from Paarl and both his two children went to school here. As recently as last year, when his health had already deteriorated significantly, he still visited Noorder-Paarl High School on whose SGB he served. In this respect I recall that it was under his chairmanship of the SGB of William Lloyd Primary School that he spearheaded the drive to introduce English as an additional medium of instruction at Noorder-Paarl High School,  a move that opened access to the school to a much wider demography. Besides his vision of inclusivity, this move illustrates that his community work was done from within the community of Paarl and for the community in which he lived until a few years ago after his retirement.
I would say that very few people in Paarl would have problems with identifying him as "local", unless on very narrow technical grounds such as place of birth and place of schooling etc. He himself identified very strongly with Paarl and denying this might inadvertently amount, for those he served, to denying the value of the work he did locally.
With this tender sense of loss we extend our sincere condolences to his wife, Cynthia, and daughter, Reza. We trust that for you, as for us, with due respect, the dark cloud of George's departure has the silver lining of the enduring achievements of a truly lovable person.
Respectfully yours
JP (Kosie) Abrahams
---