ONSE MENSE TOUR COMES TO AN END WHERE IT ALL BEGAN!
Written by KC_Admin on 15 October 2021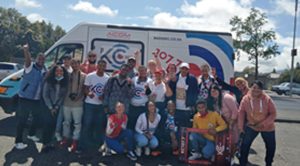 On Saturday the 9th of October, we concluded the "Onse Mense" tour where it all started 25 years ago! At the Bethal Cong Church and "Die Stoepe".
"Thank you, Rev Abe Maart aka Meneer of Bethel Cong, for believing in us many years ago when other adults didn't. I still remember the coffee he brought us. He taught and modelled servant leadership without words."  Eddie Williams
Meeting people and sharing stories will always form part of our Roots. Thank you to everyone who came out to support and celebrate this milestone with us!
---