CHAOS AS TAXIS STORM DRAKENSTEIN TRAFFIC DEPARTMENT.
Written by KC_Admin on 22 October 2021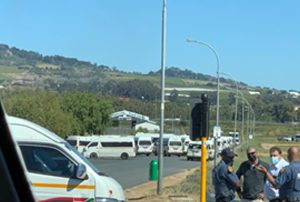 How it all happened according to Police spokesperson FC Van Wyk: "The provincial traffic officers impounded eight taxis. Other taxi drivers then blockaded Jan van Riebeeck Road and the entrance to the Drakenstein Traffic Department. During the impounding of the vehicles, it is alleged that a taxi driver attempted to run over a traffic officer, who in turn fired several shots at the vehicle, bringing it to a stop."

Four suspects aged between 34 and 58 were arrested. Police later said that one suspect was released afterwards.

"Two attempted murder cases and an assault case were opened against taxi drivers. The suspects are due to appear in Paarl Magistrates court once charged," FC Van Wyk added.
---