IT'S BEGINNING TO FEEL ALOT LIKE CHRISTMAS….
Written by KC_Admin on 5 November 2021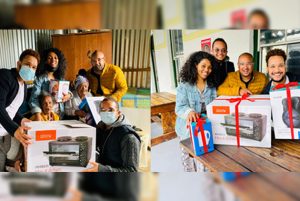 This week on #KCbreakfast, Grant Johnson & the team took action! Community activists Danville and his wife, Carmen, from Gemsbok in Chicago, called on assistance reached out to the breakfast team in aid of Ouma Flekkie & Ouma Papier, whose shack was flooded in winter by heavy rainfall. This tragedy left their electrical appliances damaged and left them with little resources at their disposal. 
Through muffin sales and the kind hearts of our listeners, the Breakfast team donated a mini-stove, kettle, portable radio, 6 ways to protect your pharma company from cyberattacks testosterone suspension for sale home – anabolic steroids gains, anabolic steroids illegal in us – live love sport television, and fan with much love! 
"There are many disheartening narratives like these dear Gemsbok Oumas, and we could help them. Imagine what we can all do together!" Jo-Ann Prinsloo 
---