SCHOOL RUN TO DELIVER 20 CHRISTMAS GIFT BOXES DONATIONS!
Written by KC_Admin on 5 November 2021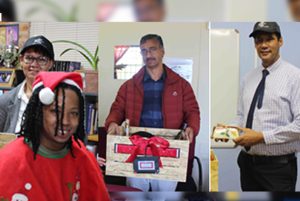 Over the next few weeks, KC107.7 will be visiting schools in the Winelands to hand over twenty #KC25 Christmas Gift Boxes to the Principal of the School as a token of appreciation for their hard work and dedication during 2021. This is our way of gifting back to the Community with the sponsorship of a 'Secret Santa' donor who will remain anonymous for now…
This week the following school Principals were lucky enough to receive Christmas Gift Boxes: Ebenezer Primary School, William Lloyd Primary School and Klein Nederburg Secondary School. 
It's beginning to feel a lot like #KCkrismis
---