JAMIE KOCK ON THE MONDAY NIGHT SPORTS SHOW
Written by KC_Admin on 19 November 2021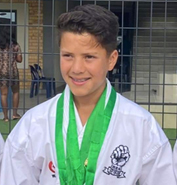 This week on the Monday night sports show, Taylor Ontong, spoke to a young boy by the name of Jamie Kock, whose only 12 years old and highly decorated in Karate. 
Taylor interviewed Jamie about all the things in Karate and the purple belt he obtained in his favourite category, The Kumite.
Jamie's short-term goal now is to get his SA Colours and to represent South Africa. The real Karate Kid.
---