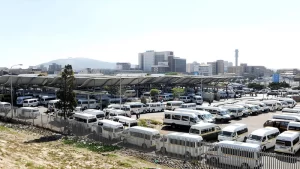 The B97 taxi route between Bellville and Paarl will remain closed for four more months.
The route was closed way back in July after an all out taxi war between taxi operators over who had the right to use the route.
The period of the closure was supposed to come to an end on 19 May 2022, but Western Cape Mobility MEC Daylin Mitchell extended it because the taxi organizations failed to resolve their dispute during mediation.
He said an extension was necessary to "stabilize the situation".
"In terms of the transport contingency plan that was drawn up at the start of the closure period, Golden Arrow bus trips will remain in operation between Bellville and Paarl to transport commuters," he added.
"I expect that extending the closure of these routes and ranks will help to maintain the relative stability that was restored to the public transport environment in the affected areas and support the process of finding lasting peace."
In September and October last year, 19 taxi-related murders and nine attempted murders were reported.
---