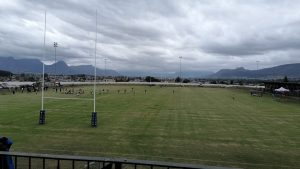 The people of Wellington was in for a treat on Saturday 28 May 2022 with the opening of their beloved Pelikaan Park(Veg Koppie). Even in the wet weather people came out in their numbers to support Hillcrest United on this historic day in their history.
The excitement was evident  between the supporters and the players, who was in awe of the new surroundings. This was the first home game in almost 5 years, with Pelikaan Park being under construction the past few years. The atmosphere was amazing as the home side put on a show for the fans and ran out 30 – 12 victors against  Temperance Rugby Club from Gouda. It was a tight contest throughout the firs half but the momentum swung in favor of the home side in the second half.
Overall it was a celebratory atmosphere for every supporter as all three home teams came out with victories. The people was in such a joyful mood that the players and fans stayed almost 2 hours after the game.
What a way  it was to re-open our beloved Pelikaan Park.
Hillies 3rd 13 – 3 Tempies 3rd
Hillies 2nd 15 – 0 Tempies 2nd
Hillies 1st 30 – 12 Tempies 1st
---