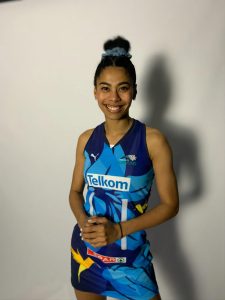 'Life is better with goals', and for the ambitious Bianca De Wee that applies for both on and off the field.
The Paarl netball player says she treasure the moment of being acknowledged and recognized for her Netball Achievements at the recent 2022 UFS Sports Awards.
She highlighted her 2 Varsity cup wins as proud moments and said that none of this is possible without great teamwork and support.
She encouraged others who are eager to pursue a career in Netball to never stop working and practicing. Be the first on the field and the last to leave.
Practice always makes perfect.
Bianca is currently competing in the Telkom Netball league in Durban and Pretoria.
– Bradley Fortuin
---