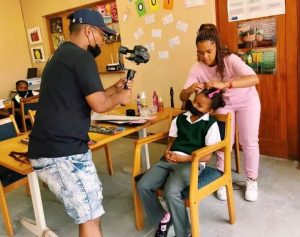 FEEL GOOD and so much more.
Social impact is at the heart of what we do, as we believe in the importance of creating opportunities for others that are otherwise unavailable to them.
Danni's Braiding Hub are proud to announce that we have launched our first social impact project called "Love is in the hair".
Through this project, we aim to educate scholars from underprivileged areas in our communities about the importance of maintaining the health of their hair. Braiding is not only neat for school, but it promotes hair nourishment and health.
We will be visiting various schools in the community and gifting learners who can not afford to get their hair braided, with a free hair treatment and braiding experience.
We visited Simondium Primary School first, and we can not wait to share this journey with you.
Love your hair as much as we do.
---