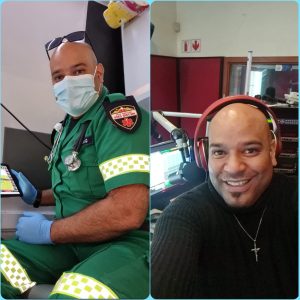 "YTSTIEK ISI MAIN DING"
I'm Darrel Adams for many I'm known as DJ-DARREL. I'm a stand-in presenter for mostly weekend shows on KC 107.7
I was an ex student of Klein Nederburg Secondary School and matriculated in 2008.
I started the love for radio when I was still a young boy going with my dad Casper Adams presenter of Party Time Saturdays 21h00 till 24h00 to the studio that time still on the "stoepe" I'd be sitting on the floor while He is doing the show and then suddenly got up and wanted to press the buttons that was full of colors.
I currently do have a permanent job as a Paramedic at the Western Cape Emergency Medical Services.
Saving lifes and entertaining people through music is so nice I believe music connects and bring people together. Im so greatful to do what I love that's why I'll continue doing it with passion.
Like I always so…. "YTSTIEK ISI MAIN DING" Let's make KC your #1 radio station
Darrel B. Adams A.K.A Dj-Darrel
Paramedic / Radio DJ
---