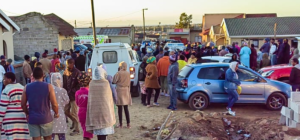 At least 20 people have died following a tragic incident at Enyobeni Tavern in East London.
Eastern Cape Premier Oscar Mabuyane said 17 people had died at the scene, and three were in hospital.
Families have been asked to identify their loved ones at the mortuary.
Addressing families outside the Brookwood Mortuary, Cele said minors aged between 13 and 17 died at the Scenery Park tavern.
Cele, who cried after seeing the children's bodies at the mortuary, said: "The scene I have seen inside, it doesn't matter what kind of a heart you have, you will be said. Firstly, the sight of those bodies sleeping there but when you look at their faces you realise that you're dealing with kids. You've heard the story that they are young but when you see them you realise that it's a disaster."
The cause of death is still being investigated.
---