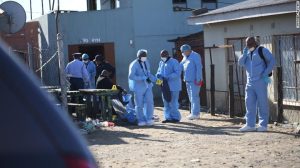 Eastern Cape tavern victims likely accidentally poisoned
Eastern Cape police spokesperson Brig Tembinkosi Kinana told Reuters that the youngest victim was a 13-year-old girl. An emotional Police Minister Bheki Cele had to pause speaking as he started weeping on Sunday, triggering cries among his audience outside a morgue.
"It is either something they ingested which will point to poisoning, whether its food or drinks, or it is something they inhaled," Unathi Binqose, spokesperson for the Eastern Cape community safety department said by phone on Monday, ahead of a toxicology report still being awaited. He said hookah pipes were visible in CCTV footage of the scene.
"We are ruling out a stampede," he added, after initial media reports suggested this may have been the cause.
President Cyril Ramaphosa said on Sunday he was worried about the circumstances under which young people, at least some under the age of 18 years, were allowed to gather at the tavern.
---