EARLY B ON #KCDRIVE
Written by KC_Admin on 30 November 2021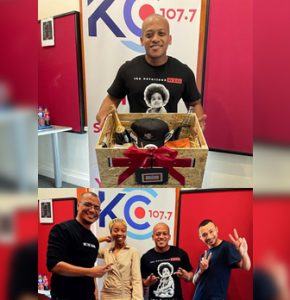 Early B paid Brad and the team a visit this past Monday on KC Drive. The acclaimed Rap Artist brings a fresh, love inspired HipHop song just in time for summer.
Early brings life to his lyrics with Cape Town's Andrea Fortuin (aka It's Anny). He paints a story with his top tier storytelling style of rap while It's Anny serenades with her spectacular range and harmonies.
With just about 1 000 000 combined social media followers,
Early B and 'It's Anny' will be the reason the happy vibe is riding the airwaves this December. Their music video premiered on YouTube on 19 November 2021.
Early B also showed his support by purchasing his #KC25 CHRISTMAS GIFT BOX
---